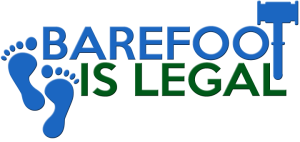 Welcome to Barefoot is Legal! We are a group committed to promoting barefooting and showing that it is both healthy, and legal, for all age groups. We're glad you found us and hope you can take the (bare) step to going sans footwear.  Our first steps guide can give you a few tips for starting out. Please look around as this site develops and learn more about why we dare to go barefoot. Connect with us on Facebook, Twitter, and LinkedIn. Make sure to get your very own Barefoot is Legal t-shirt to help spread awareness!
Got questions about going barefoot at work? Are you a business owner wondering about the legality of barefoot customers? We're here to help! Call us directly at 844-522-7882. If we are unable to answer your call, please leave a message and we will return your call within 48 hours. Thanks. You may also contact us here and tell us about a bad experience with a business. Barefoot rights cards and letters from state health departments are also available to bring with you.
Why Does Barefoot Is Legal.org Exist?
Most people in the Western world believe there are laws regarding driving a car, going into a store, or eating in public barefoot. There is a social stigma with being seen without shoes on. Barefoot Is Legal (BIL) hopes to change that.
Our goal and Mission statement
The Barefoot Is Legal community is about making the barefoot lifestyle more acceptable. This will be done by sharing with the public that going barefoot while driving, going into a store, or eating in public is not a crime, a Health Department violation, or a liability. The group will also share with businesses that allowing their office employees to wear open shoes and even going barefoot within their working area is healthy. Businesses will even be able to save a little bit on health care costs by not mandating closed shoes with heels. Stores and businesses are losing money to law suites from people getting injured from being told to wear footwear. We want to educate people that being healthy should be accepted and embraced.