What do I get?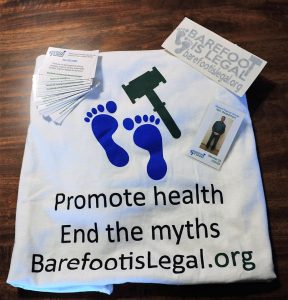 Annual memberships include an introductory T Shirt, a handful of business cards, a membership photo ID Card, and other items.
What is this for?
We want to create an active community for obtaining and keeping our barefoot rights. We want to do so in a professional manner. If someone gets shouted at in a store, the employee would be shellshocked that you have an ID card! Also, if we want our freedom, we realize we have to come together as a unit and do things to gain respect.
What is this Membership ID?
It will be a submitted head to barefoot photo of every member. Photos will be either inside or outside of a store. Bare feet required.
On the front, a name, membership number, and our logo will be displayed.
On the back, will have our toll free number, website, and a state rights/ American Disabilities Act paragraph on the back.
It will also contain a QR Code, so someone with questions can click on the QR code and see the laws from their smartphone.
Will this ruin our Facebook group?
Absolutely not! However, at some point Facebook will not be as prominent. Also, the Facebook group will be geared for newer people, those who do not wish to have a VIP membership, and will continue to be all-inclusive. We simply want to make improvements within our organization.
What does the money go to?
Our mission for short term is to get funding for all the supplies needed to get into health fairs, flea markets, and other outreach programs.
We do want to give our website team, and our email/phone outreach team something nice for helping us stay in existence.
We also want to eventually do things other non profit type groups do. These include: music festivals, special events, having an office with several employees assisting with duties.
Why a head to barefoot in public photo ID?
This photo ID will be on the front, going up and down, We want this to show everyone that we do go into businesses barefoot.
We want to eliminate ALL aspects of people denying access to building over our barefoot choice. An ID will show in fact we are respectful, organized, and aware of our rights.
Will this ID Always Work?
There are no guarantees. The longer we are in existence, and consistent, we will have greater success down the road.
With the barefoot in public photos on our membership IDs, we hope this shows we are just as normal as everyone else.  The more people see us, the more we will gain acceptance.
Can't we do these things for free?
Some items we CAN do for no cost. However, to rent festival space, get into health fairs, print literature, advertise, etc all cost money. We will not be able to obtain a courtesy booth rentals at prominent spots. Not many known musicians will help us organize an event for free.
Simply put: If we want our freedom, WE have to show we want it. This includes putting money where our mouth is. We are keeping the price reasonable because we understand that no one really WANTS to come out of pocket. We do have to come together and work as a team to gain our freedom. This cost per VIP member is less than a breakfast combo at your fast food place monthly.
What is the cost?
$49.95 yearly
Can I pay monthly?
Monthly will give you VIP membership access. Annual subscriptions get the mailed merchandise.
I have kids. Can we get a family plan?
We can make a photo ID for your kids! The cost per kid under 17 will be whatever the cost is to create the ID and shipping. On the t shirt, the price will be the same as ordering separate, but shipping can be at no additional charge.
Can I buy extra shirts?
Yes. Extra shirts and other merchandise can be purchased.
What about other countries?
Our cost MINUS shipping is the same. We will have to research the extra costs to deliver in each country at the time of sale.