It all comes down to standing up for their freedom.
The protagonists in this tale are tens of thousands of people who'd like to go anywhere they want without shoes on their feet. Their antagonists? Strangers who gaze upon them with bewildered looks and send dismissive comments their way just for being themselves.
National Go Barefoot Day won't come around until June, but for three days starting Friday, though, members of the Barefoot Is Legal (BiL) non-profit advocacy group will embark upon their second annual "I Did It Barefoot Challenge."
The group – which boasts of some 70,000 members from sea to shining sea and beyond – will set out to "take a selfie and/or a 60-second video" of themselves in stores sans shoes.
It is their firm belief that common misconceptions about the public-health impact, and legality, of doing so should be stomped out by the truth.
While some people maintain that bare feet are nothing but germ and bacteria magnets, Barefooters have been pushing back against those "myths" through Facebook groups, science and witty memes that catch attention on Twitter.
BiL's advocacy push includes links to proof that going barefoot in restaurants, or while driving, is not against the law as people mistakenly believe. That's the case in Pennsylvania.
"The Model Food Code, which is incorporated into the commonwealth's regulations governing retail food facilities, does not address customer attire," said Casey Smith, communications director for the Department of Agriculture, who deferred to the Philadelphia Health Department on potential local ordinances.
In Philadelphia's Food Establishment Regulations, the word "hands" appears 38 times while "feet" and "shoes" show up a grand total of zero times. But that fact doesn't have an impact on whether eateries have policies governing footwear for employees or customers.
SCIENCE IS ON THEIR SIDE
From a scientific perspective, the Barefooters' stance isn't as crazy as it might initially seem.
Dr. James Christina, a Bethesda, Maryland-based podiatrist, is the executive director of the American Podiatric Medical Association.
"Bare feet will not spread germs any more than the shoes coming in contact with the ground." – Dr. James Christina, podiatrist
He said that if the skin on a person's foot is intact, with no cuts, fissures or the like, "bare feet will not spread germs any more than the shoes coming in contact with the ground."
"I don't think that's really the issue," said Christina, who urged people with diabetes or circulation problems away from following suit. "It's more about the risk to the person walking barefoot and liability for the establishments.
"They've lost the protective function of the shoes so they might step on something they didn't realize was on the ground or drop something on their feet. It's less of a risk from a public health standpoint as it is for the person going barefoot."
When it comes to businesses and restaurants, policies can restrict patrons from entering barefoot and seeing variations of the "No Shoes, No Service" sign. BiL folks are armed to push back against claims of illegality, though.
According to BiL founder Dave Kelman, some companies have seen the light. That includes IKEA, which was the focus of a local complaint on the Facebook page of another barefoot group, Society for Barefoot Living.
Via Facebook/for PhillyVoice
"I've actually been in touch with IKEA's corporate offices and they said 'Go right ahead.' I have a letter from corporate to that effect," said Kelman, a Long Island, N.Y., native who now lives in Las Vegas, where he works with Freedomizer Radio.
"What happens is the workers (mistakenly) think it's a law or a company policy," he continued. "That's been a common problem."
What BiL does to help members avoid such situations is research laws from various states, and provide letters from various companies, which contradict those assertions.
Their advocacy extends to calling out police officers who issue tickets for driving while barefoot when, in reality, it's not illegal to do so in any of these united states. (As an aside, Philadelphia cab drivers are prohibited from driving barefoot thanks to PPA regulations, but there's no law against it for anyone.)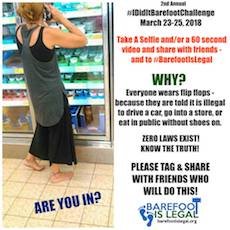 Courtesy/Barefoot Is Legal
They also give members ID cards, complete with a head-to-exposed-toes photo taken in a store, and QR codes."If you get stopped in a store where someone says it's illegal, they can scan the ID with their phone and it will show them the laws in their state," said Kelman, who started BiL in October 2015. "It would tell someone that it's not illegal in Pennsylvania if you can get them to at least listen to you."
He said he's heard of police being called in some situations, which leads to the risk of arrest should the situation escalate.
"They can tell you to get out of the store, but there are no laws against it," said Kelman. "I went to court once with someone who got a (driving while barefoot) ticket in the suburbs of Dallas (Texas) and it just got thrown out. Everybody from AAA to myth-busting TV shows agree."
'WHY NOT TRY THIS?'
Kelman was first drawn to the "movement" from his time as a room-service waiter in Las Vegas decades ago. He said he dropped scalding hot water, which got trapped in his Doc Marten boots. Between the burns and staph infection, he spent 13 days in the hospital.
"They said I might have to walk with a cane, perhaps need a wheelchair after a few years, but I realized that when I was barefoot, I wasn't in pain," he said. "Why not try this?"
The passing years transforming his personal choice to spurn shoes into advocacy. He scoffs at those who scoff at him and his like-minded friends. He recounted a story of a Baskin Robbins in Jacksonville, Florida.
"We want our freedom to go out barefoot without getting that tap on the shoulder, mocked or ridiculed." – Dave Kelman
"The manager said we can't serve you because of glass on the ground. I asked him what glass products they sell in their ice cream, or what glass is on the ground?" he said. "He then said that a gang member could do a drive-by and how would we get you out, that they were worried about my safety."
Another time, he said, he went to a Daytona Beach post office and was told he had to leave and come back with footwear. They were concerned he might drop something on his foot while he was merely buying stamps.
His isn't the only pro-barefoot group out there, but he said it's the only one "actively pushing for people's rights."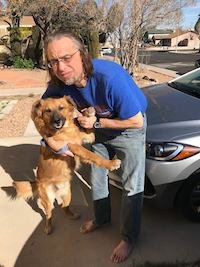 Dave Kelman/Facebook
Despite his attempts to track someone down for this story, there doesn't seem to be a Philadelphia-area barefoot activist with ties to the group. BiL member Bonnie Alf Baxter did recall visiting her sister in Philadelphia as a teenager, though."When I was 14 and visiting, I was barefoot out and about near her neighborhood. She lived on East Passyunk Avenue at one time. With no shoes, looking scared and running a bit, the police picked me up and took me back to her apartment," she said. "All was well. There were no questions on my feet and only one comment on the street from a gentleman wearing a skirt: 'See she doesn't wear shoes with her skirt either!'"
Kelman, fellow BiL official Nick Deutschmann and several group members said they just want to be left alone to wear what they want on their feet, even when that's nothing.
He said the pushback comes from people who've spent their entire lives hearing parents say "they have to have shoes on their entire lives." That's a hard habit – and mental take – to break.
'PEOPLE FREAK OUT ABOUT IT'
They're more than happy to delve into a discussion about how handling money and turning doorknobs spreads more germs via hands than walking barefoot spread from feet.
"We want our freedom to go out barefoot without getting that tap on the shoulder, mocked or ridiculed," Kelman said. "It's funny that people wearing flip flops are laughing at you for not wearing shoes … whenever you ask someone why they're wearing flip flops, it's because they hate wearing shoes.
"We're not advocating that you have to walk around the Philadelphia Zoo in January if it's six degrees out, and we're not asking you to walk the Tucson, Arizona mall when it's 121 degrees out. But for simple errands, eight steps into a pizza place isn't a big deal. It isn't rocket science, yet people freak out about it."
With most businesses concerned about liability and insurance ramifications of customers getting injured, BiL's leadership gets a kick out of the fact that Gusto, a billion-dollar small business-insurance company requires its employees to remove their shoes when they get to work.
Deutschmann traced his barefoot advocacy back to the AOL internet days when the Dirty Sole Society got a spot on the ABC News with Diane Sawyer. He found that being barefoot helped with his balance in taekwondo.
"I always had a general distaste for footwear, but society said I had to have shoes on, so I had to oblige," said Deutschmann.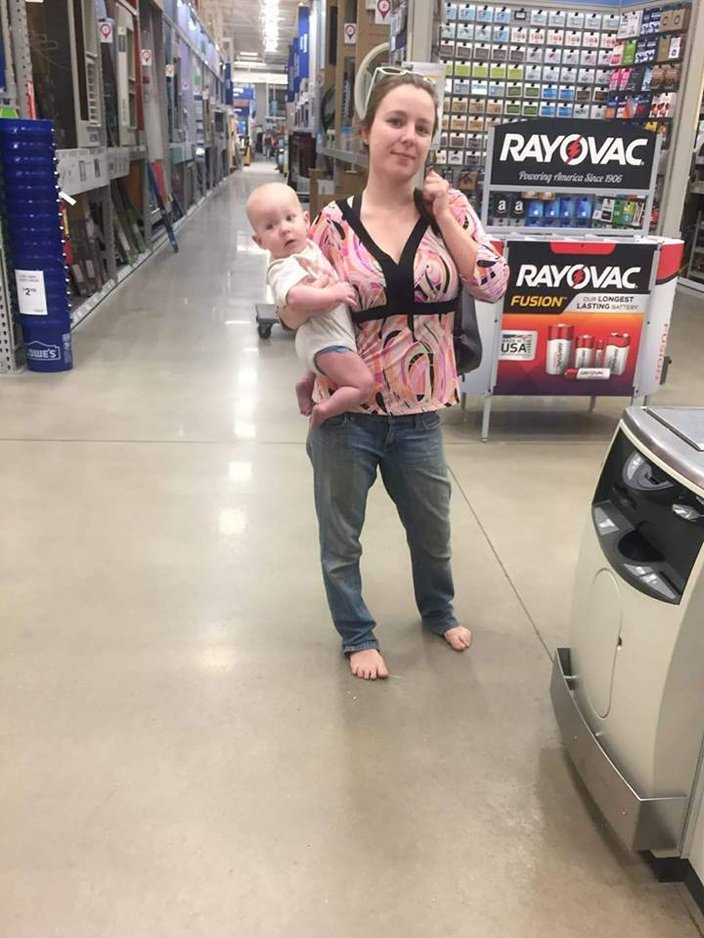 Courtesy/Barefoot Is Legal
The Minneapolis resident doesn't hold a grudge against Eagles fans said to throw beer cans at Vikings fans before the NFC Championship Game in January, by the way."On Super Bowl Sunday, the high temperature was, what, two below? You're not catching me barefoot outside in that, but inside, you're fine," he said, noting that he takes barefoot walks in the Minneapolis Skyway. "I mainly get bewildered looks, WTF is that all about looks. But as the weather changes, it changes the reactions of people.
"With the group, the most common thing we hear is that a lot of people who grew up running around barefoot in the South are saying 'now that I'm grown up, I have to wear shoes?' They never really liked it. Then, they find us and we tell them that no, you don't have to wear shoes if you don't want to."
Kelman, who is behind the memes that the group uses to both attract interest and fend off trolls, does have a dream of sorts.
"I'd like to see a day where the average person can go someplace and be treated like a normal human being if they're not wearing shoes," Kelman declared from the proverbial pulpit.
As for this weekend's "I Did It Barefoot Challenge," BiL invites Philadelphians to participate, or give the barefoot life a try sometime.
"For the first timers trying out their new freedom, go someplace easy," he recommended. "Perhaps the post office, a to-go pizza place or sandwich shop. Someplace where everyone is in and out within a couple minutes."